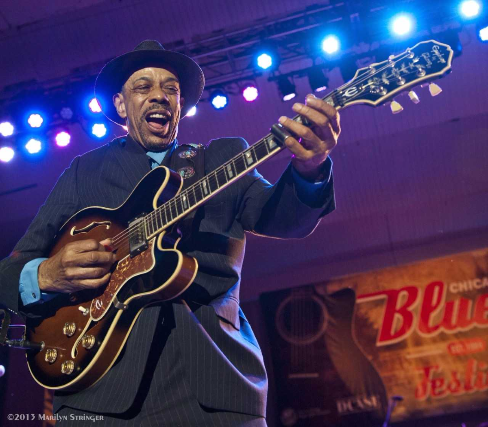 ALL AGES
TABLES (Per Seat) $15
General Admission $10
As the title of his critically acclaimed Atlantic Records CD suggests, 2 time Grammy Award Nominee and 2016 Blues Music Award Winner, John Primer is truly "The Real Deal." At 8 years old, John borrowed his first guitar and started to strum. Before that he played a homemade guitar built on the wall of the house with a broom wire, 2 nails, and 2 rocks to make it tight. With the sounds of Jimmy Reed, Muddy Waters, Little Milton, Elmore James, BB & Albert King reverberating through his Grandmother Laura Nell's tube radio, John was instantly hooked.
In 1979, master songwriter and bassist Willie Dixon persuaded him to join his band The Chicago All Stars. Traveling through the US, Mexico and Europe, John developed his skills as a rhythm guitarist, a lead slide player, and a powerful singer. Another blues master who believed in John Primer was none other than the "Hoochie Coochie Man" himself, Muddy Waters. Muddy recruited John not only as a guitarist, but also as an opening act and bandleader. As he did with so many other great musicians, Muddy served as a father to John, instilling in him an unrelenting passion for the music that gave birth to Rock and Roll. John stayed loyal to Muddy until his untimely death in 1983.
Fresh off the heels of his success with the Muddy Waters Band, John signed on with the legendary Magic Slim. For the next 14 years, he toured with Magic Slim & The Teardrops, bringing tight, house rocking sounds to every corner of the planet. While John was the bandleader of Magic Slim & The Teardrops, they were voted the best blues band in the world year after year and are still today thought of as the inventors of "the lump", Chicago Blues sound.
But John's days as a sideman were numbered, and in 1995 the veteran blues man released his major label debut "The Real Deal", on Atlantic Records. Deciding to make it out on his own, he began touring extensively in support of his thirteen solo albums to date. John formed his own independent record label, Blues House Productions in 2008 and released "All Original" his debut CD and then his second CD "Blues On Solid Ground". John's first 2 CD's "All Original" and Blues On Solid Ground" have been nominated by the National Blues Foundation, the Blues Blast Awards and have won the Living Blues Award as well.
John is a Living Legend and is Chicago's Blues Amabassador, he has been given 2 Grammy Nominations, 2 Lifetime Achievement Awards, won a Blues Music Award for Best Traditional Blues Male Artist in 2016 with more than 12 other Blues Music Award nominations, and in 2010 John won the Living Blues Award for Blues Artist of the Year.
Artist with original Mississippi roots. He was taught by the Founding Father's of the Blues, the "old way" (some say the "right way"). We need to cherish his history and celebrate his amazing music!