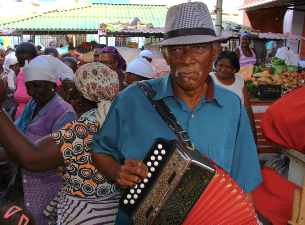 ALL AGES
FREE
RSVPs are not neccesary and do not guarantee seating, but will enable us to provide you with updates.
Bitori
Victor Torres, who's better known as Bitori, didn't enter the recording studio for the first time until he'd reached the ripe old age of 59, back in 1997. He went on to make a debut album that provided a serious jolt in the Cape Verde Islands, where funaná, the accordion-driven style he'd long mastered, was already one of the most popular regional dance styles. As a teenager Bitori traveled far south in the Pacific Ocean to Sao Tomé and Principe—like his homeland, another one-time Portuguese colony--to find work and buy his own accordion. Two years later, goal achieved, he taught himself the rudiments of the instrument on the long trek home. Unfortunately, colonial powers suppressed local folklore, and funaná music, with it's surging squeezebox melodies, brisk polyrhythms, and avuncular, joyful singing, began to disappear, and it wasn't until 1975, when Cape Verde gained its independence, that the music came roaring back, although it remained a live phenomenon—the music wouldn't be recorded until the early 90s. By then an enterprising young singer named Chando Graciosa, enraptured by Bitori's playing, convinced the accordionist to travel with to Europe, to introduce the music to a new audience; they enjoyed great success before Bitori returned home. Graciosa chose to settle in Rotterdam, but he didn't give up the collaboration, and in 1997 he brought the accordionist back where they went on to record Bitori Nha Bibinha, which made Bitori a major star at home. Last year the great Analog Africa gave the album its long overdue international release as Legend of Funaná (The Forbidden Music of Cape Verde Islands), followed by Bitori's return to Europe as a newly minted world music great. Now Bitori and Graciosa are setting out to make their North American debut, bringing them to Chicago for the first time and letting us experience the rustic dance music in its purest form.
Beats y Bateria
This dance floor-filling quartet from Chicago provides ample evidence that New York is hardly the only melting pot in the US. The heart of the project comes from the unlikely collision of Cuban-born producer and DJ AfroQbano and the Moldavian jazz singer—with an abiding love for Portuguese fado—Ana Munteanu, and together they deliver a hybrid sound much grander and more diverse than their collective ethnic backgrounds would suggest. Put simply, this duo loves music from all over the globe, and together they casually sweep together a world of influences in one single, remarkably cogent project. Beats y Bateria are aided immeasurably in that task by multi-instrumentalist Patrick Donley and drummer Daniel Crane.