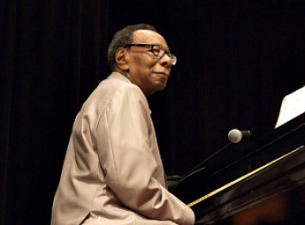 ALL AGES
$30 GA/$35 TABLES (PER SEAT)
Charles Heath presents SUNDRESSES & SEERSUCKER, the Ken Chaney Scholarship Benefit Concert featuring Corey Wilkes.
There are many moments that can define a man's life and for Pharez Whitted, this is one of them. He's taken on the new role as Chicago's Youth Symphony Orchestra (CYSO) Jazz Director and Howard Reich at the Chicago Tribune described Pharez perfectly - "Few Chicago musician-educators are more qualified than Whitted to build the new band, for he commands a richly deserved reputation as a trumpet virtuoso, seasoned educator and irrepressible champion of the music."
Whitted is humble with his legacy and his deep roots in music go as far back as the 1930's in Indianapolis where the Hampton Family Band first began performing. His mother Virtue, his uncle Slide Hampton and the other 10 siblings (12 in total) laid the foundation with their self-educated and courageous father, Clarke "Deacon" Hampton at the helm. With that level of determination and talent, Whitted was destined to inherit the gift of music.
The Ken Chaney Scholarship is invested in the long-term prosperity of Chicago neighborhoods. Your support of this benefit allows us to continue our mission to mentor and provide world class concerts throughout Chicago. Proceeds from this event will help send students to jazz camps, support music majors, college tuition, and continue our mentorship programming.