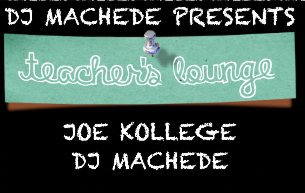 21+ $1/FREE with Teacher I.D.
Lesson Plan
Materials
Comfortable Clothes
Feeling of Freedom
$0
Dancing Shoes
A Smile
Objective:
Attendees will create an atmosphere of celebration for all Teachers that made it through another school year.
Attendees will release all of the stress and anxiety of the previous school day
Attendees will dance, sing, and party to their hearts content as they see the day light of impending Summer break
Procedure
Leave work
Pack away the tie, spaghetti stained work skirt, coffee stained slacks, in a bag and put in the back of storage closet.
Call up all of your fellow Teachers and tell them to meet you @ The Promontory for a Party in your honor!!!
Arrive @ The Promontory at 5pm, order your favorite cocktail, and Toast with your Colleagues!!!
Assessment
Attendees will be assessed based on the distance between the corners of their mouths, with the highest grade being assigned to those with the most amount of space in between :-)